Welcome to OHBM 2013

Thank you to all who supported the OHBM 2013 meeting. We look forward to seeing you next year in Hamburg!


The 19th Annual Meeting of the Organization for Human Brain Mapping was held June 16-20, 2013 at the Washington State Convention Center in Seattle, WA, USA.

OHBM draws attendance between 2500-3000 attendees each year. Membership in the organization is growing and the meeting continues to be one of the most significant neuroimaging conferences for those in the field. The OHBM meeting boasts a combination of exciting scientific programs and social events, all tailored to the city the meeting is being held.

Unique, innovative and full of surprises, Seattle is a diverse city with a laid-back approach to life. To experience Seattle is to experience the quiet confidence and balanced urban and natural lifestyles. Seattle is a world-class metropolis with a fast-paced city life within wild, beautiful natural surroundings.

2013 Program Committee
Peter Bandettini, Chair
Pedro Valdes Sosa, Chair Elect
Katrin Amunts, Past Chair
Klaas Enno Stephan, Chair Education Subcommittee
Jack Van Horn, Chair Elect Education Subcommittee
Michael Beauchamp, Past Chair Education Subcommittee
Bradley Schlaggar
Marco Catani
Nathalie Tzourio-Mazoyer
Vince Clark
Simon Eickhoff
Maurizio Corbetta
Susan Bookheimer
Steve Smith
Jia-Hong Gao
Thomas Grabowski
Arno Villringer

2013 Local Organizing Committee
Thomas Grabowski, Chair
Geoffrey Boynton
Allan Jones
Elizabeth Aylward
Jeffrey Ojemann
Kenneth Maravilla
Adrian K.C. Lee
Elaine Shen
Todd Richards
Colin Studholme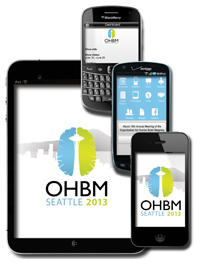 Questions? info@humanbrainmapping.org