The Organization for Human Brain Mapping (OHBM) is the primary international organization dedicated to using neuroimaging to discover the organization of the human brain.
---
OHBM Blog!
OHBM Members and the larger brain mapping community now have a blog dedicated to providing scientific posts, interactive polls and interviews with leading scientists on a variety of topics and issues facing the brain mapping community. This new blog is a project of the OHBM Communications Committee. Nikola Stikov has been leading the efforts and working with the blog/member communications subcommittee. Check it out at humanbrainmapping.org/blog and stay tuned for upcoming interviews with 2016 OHBM Annual Meeting speakers. "Advancing the Understanding of the Human Brain" will now have an additional interactive platform for sharing information, opinions and ideas. If you have ideas for content, contact Blog Team captain, Nikola Stikov at nikola.stikov@polymtl.ca.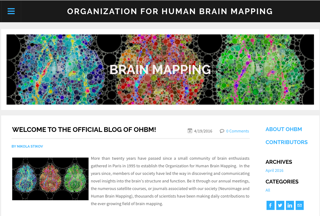 ---
CHAPTER News:
After the big success of the first OHBM Alpine Chapter Symposium in Vienna (2015) and the Clinical fMRI-DTI course in Basel (April 2016), the 2nd Alpine Chapter Symposium will be held in Salzburg. The symposium consists of OHBM member initiated sessions, individual contributions and posters. Suggestions for session topics are welcome (see flyer and www.oegfmrt.org).
---
Thank you for your continued support of OHBM. If you have any questions or ideas you would like to share, please send them to info@humanbrainmapping.org