The Organization for Human Brain Mapping (OHBM) is excited to share that we will once again be meeting in person for the 2022 OHBM Annual Meeting and Educational Courses! The 28th OHBM Annual Meeting will be held Sunday, June 19th – Thursday, June 23rd at the Scottish Event Campus (SEC) in Glasgow, Scotland.
Located only a three-minute train ride or eight-minute drive from the Glasgow City Centre, the SEC is the UK's largest integrated conference and exhibition centre, offering the perfect combination of advanced technical facilities, proven experience and professional service.
As one of the premier event venues in Europe, the SEC has hosted international events of all sizes and hosts an average of 200 events each year. The SEC most recently held the COP 26 UN Climate Change Conference which brought together 120 world leaders and over 40,000 participants.
The SEC Centre is comprised of over 239,000 feet of exhibition space within it's five halls. It also directly links to the Armadillo and OVO Hydro (pictured above), making it the perfect space to provide concurrent exhibitions, banquets, concerts or large-scale events.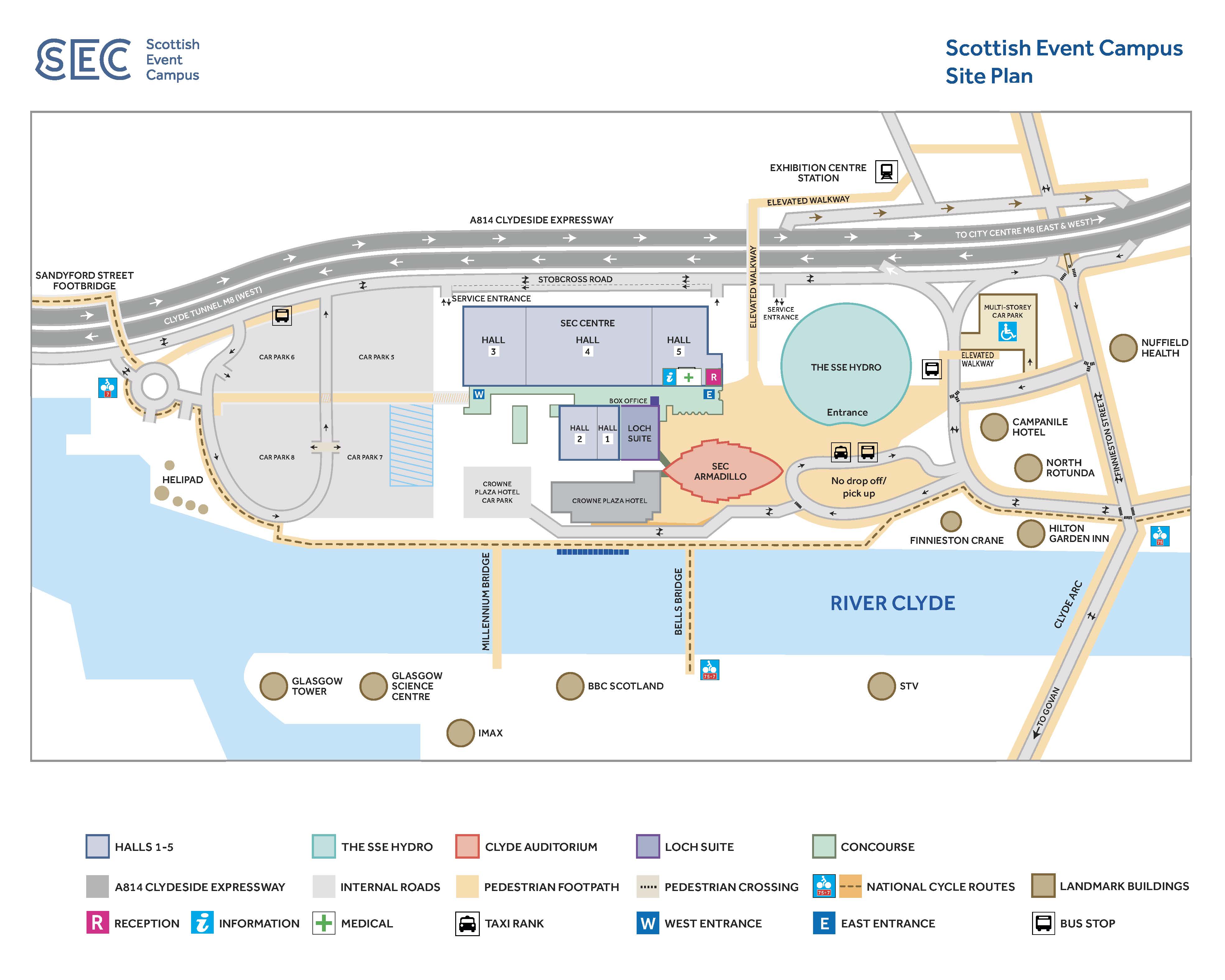 With a number of on-site services that include a medical center, free Wi-Fi, a prayer room, a nursing mothers room, a full-scale restaurant, a convenience store, and much more, in-person attendees will have everything they need to safely and comfortably enjoy this year's Annual Meeting.

One of the many reasons that the SEC was chosen to host the OHBM 2022 Annual Meeting was their commitment to reducing the environmental impact of the events that take place at their venues.They do this through a number of different ways, as stated in their Environmental Policy, including:
To reduce our carbon footprint through active management and monitoring of our energy and water consumption and pursuing our carbon commitment of Net Zero by 2038.
To reduce waste volumes and increase recycling rates by improving our waste management practices.
To protect the environment by preventing pollution and implementing environmental incident response planning and training.
To deliver sustainable events throughout the event lifecycle by working with and supporting our clients and promoters.
To support sustainable transport through the implementation of a Green Travel Plan.
To read the complete SEC Environmental Policy, click here.

The SEC is easily accessible for people with mobility difficulties and accessibility needs as the venue works closely with "Attitude is Everything," a company that improves disabled people's access to live events by working in partnership with audiences, artists, and the event industry to implement a Charter of Best Practice in the UK.


The SEC currently holds a Gold Award and is committed to continually improving their venues in order to maintain the Gold Level. They maintain this level through a number of services, including:
Alternative Information Formats (printed, large print, audio, etc.)
The SEC Centre has automatic doors at both the East and West entrances and every hall in the venue is at ground level making every event easily accessible for wheelchair users
Each venue has handicap accessible lifts
The SEC campus offers a Sensory Backpack Service, primarily for children and adults with Autism and other Sensory Processing Disorders (Backpacks include: Fidget toy, sensory distraction, earplugs/ear defenders and a feelings card. Children's packs also include a soft toy and sunglasses).
Accessible Seating
Accessible Parking
To learn more about the SEC Centre's accessibility, click here.


The SEC is the first venue in the UK to achieve a Healthy Venue Gold Status. One of the main goals of the SEC is to integrate a healthy outlook into every sector of the events hosted. They do this by offering healthier lifestyle options for anyone arriving on the campus - ranging from a choice of nutritious food to encouraging physical activity in and around the venues.
The SEC maintains their healthy venue gold status through a series of sustainable commitments, including:
Providing healthier food choices
Encouraging and supporting organizers to include physical activities into their event agenda such as yoga, fun runs, mindfulness sessions and step challenges
Promote active travel to and from the SEC
Provide information for delegates to allow for a healthier conference experience
To learn more about the SEC's healthy venue status and their commitments to sustainability, click here.