The 2024 Annual Meeting will take place at the COEX Convention and Exhibition Center, a world-renowned venue, located within the Gangnam district in the heart of downtown Seoul, Korea.
---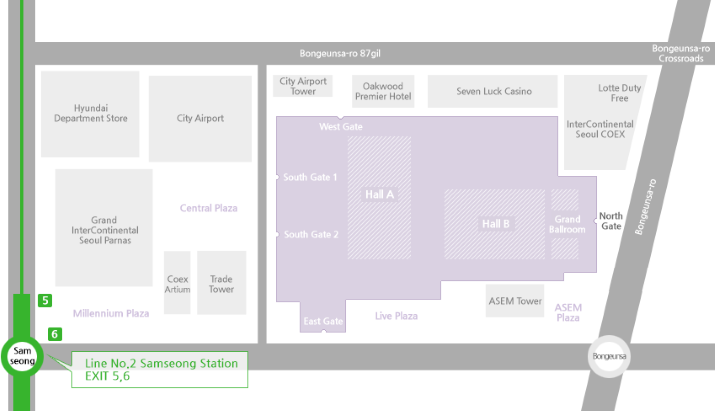 Image source:https://www.coexcenter.com/directions-map-subway/
GETTING TO THE COEX: The COEX Convention and Exhibition Center is located at: 513 Yeongdong-daero, Gangnam-gu, Seoul, South Korea
For extensive written instructions for how to navigate to/from the COEX by subway, bus, to/from local airports and by bike, please access transportation information here or watch this video.
---
ACCESSIBILITY: OHBM is committed to welcoming attendees with disabilities. The COEX is a fully accessible facility. Persons with on-site physical related needs are invited to contact the OHBM Executive Office at: info@humanbrainmapping.org to discuss how to best support you.
Interested in further information on general Seoul related physical accessibility resources? Browse Visit Seoul's recommendations here.
---
SUSTAINABILITY: Since 2004, the COEX has dedicated resources to focus on an extensive green campaign to improve the eco-friendly practices of the venue and continue to put sustainability at the forefront. To learn more about these initiatives, click here.
---
OTHER AREAS OF INTEREST: The Conference and Exhibition Center is a part of a larger complex that makes up a popular tourist destination area in Seoul. Here, you will enjoy Asia's biggest underground shopping mall, Starfield COEX Mall, which contains 300 shops and restaurants for your enjoyment. Catch a movie at the Megabox Cinema, marvel at sea creatures at the COEX Aquarium, or snap a photo near the floor-to-ceiling bookshelves at the iconic Starfield Library.